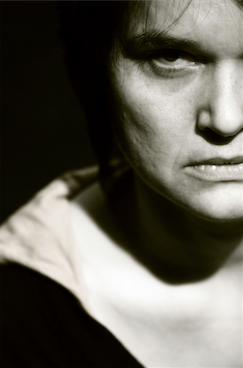 Ursula Neuerburg-Denzer, Ph.D., born in Cologne, Germany, is Assistant Professor of Theatre at Concordia University in Montreal Canada, where she teaches acting, directing, history, and dramaturgy. With a strong background in performing and directing, Neuerburg-Denzer's research and teaching interest focuses on emotion studies for performers, and the connection between historical performance styles and contemporary practice.
After a decade of independent theatre work in Berlin with a specialization in physical theatre, she co-founded Richard Schechner's East Coast Artist in NY. Since 1996, Neuerburg-Denzer has been a full-time teacher of acting, directing, theater history and theory. She is a certified Rasabox instructor, and volunteers regularly at the Bread & Puppet Theatre in Vermont.
Her most recent article
High Emotion- Rasaboxes in the Emo Lab: Emotion Training for Actors in the Twenty First Century
, was published in
Theatres of Affect
. An essay on the collaborative project with Floyd Favel on the housing crisis on Northern reserves,
Attawapiskat is no Exception
will be published in a collection called Dream Houses.