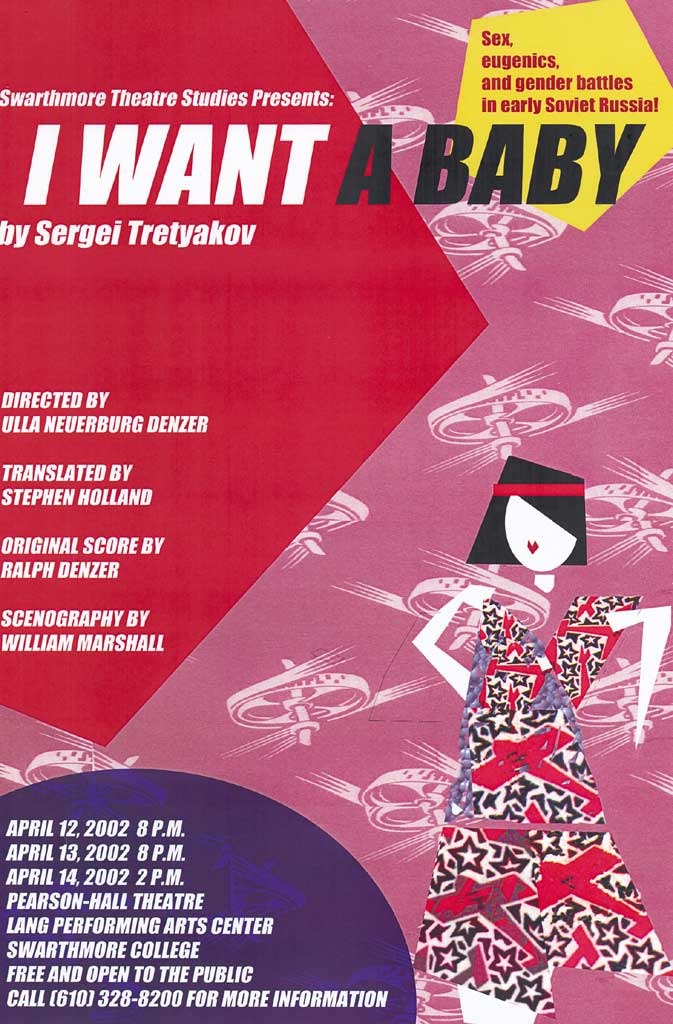 I Want a Baby
by Sergei Tretyakov, translated by Stephen Holland, edited by Robert Leach
Pearson-Hall Theatre, Swarthmore College, Swarthmore, PA.
April 12 - 14, 2002.
I Want A Baby
written in 1926 is Sergei Tretyakov's last stage play. The play, divided into fourteen episodes, is constructed following the principles of "the montage of attractions." Prismatic or kaleidoscopic in structure, it centres on an overcrowded apartment complex in urgent need of renovation. Conceived as a "discussion play," the planned productions by Meyerhold in Moscow and Igor Terentiev in Leningrad were censored, re-censored after rewrites, and eventually indefinitely postponed. Issues the censors picked up on were the graphic depiction of violence and unrest in Soviet society as well as the plays sexual explicitness. When the play was finally slotted for production at the Meyerhold theatre in 1928, with designs by El Lissitzky, Stalinist cultural policies had already begun to negatively affect all non-naturalistic tendencies in the extremely lively avant-garde of the 1920's and the play was completely forbidden. The first performances of I Want A Baby took place in both East and West Germany during the cold war period, and in Great Britain and Russian during the eighties. The 2002 Swarthmore College production was the North American premiere of
I Want A Baby
.
Directed by Ursula Neuerburg-Denzer
Scenography by William Marshall
Composer and musical director: Ralph Denzer
Assistant director: Jessica Nakamura
Dramaturgs: Jessica Nakamura and Elizabeth Nolte
Costume and make-up: Erica Cartmill
Set and props: Eileen Estes
Lighting and projections: Kate Nelson-Lee
Additional coaching by Roger Babb
Stage manager: Guy LeBas
Featuring: Hunter Wells, Maria Alvarez, Elizabeth Zimmerman, Elisa Matula, Emine Fisek, Keetje Kuipers, Lashanna Lawler, Elizabeth Nolte, Petar Lazarevic, Felicia Leicht, Rebecca Ennen, Audrey Pernell, Kate Hurster, Adrienne Mackey, Dale Mezzacappa, and Erica Cartmill.